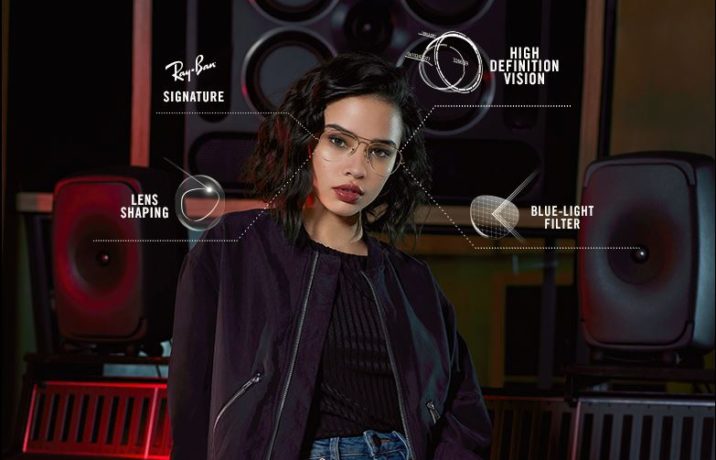 Ray-ban Prescription lenses – The whole package
18/05/2018
You can now complete your chosen Ray-ban frames with prescription Ray-Ban lenses. Available in single vision as well as varifocal for both ophthalmic and sunglasses lenses.
What do you get with Ray-Ban prescription lenses?
Glazed in their labs, all lenses come with the iconic logo etched in to the corner and digital surfacing technology. Digital Surfacing Technology (DST) is a state-of-the-art process that is engineered to go beyond the limits of conventional optical technology. RAY-BAN® DST lenses are digitally optimised point by point on the backside surface to help guarantee a HIGH DEFINITION vision not only at the center but across the whole surface of the lens.This technology is available for single vision and progressive, in clear and sun.
How about coatings?
As well as DST, Ray-Ban glazing offers the latest in technology in lens coatings. The Premium Anti-Reflective coating allows UV protection, glare reduction, water and oil repellent. Also available is the Blue Light Filter. Blue light comes primarily from the sun, as well as artificial sources such as digital screens and fluorescent lights. Emerging research points to a possible link between exposure to blue-violet light and long-term vision issues, such as age-related macular degeneration. Long-term, cumulative exposure to blue-violet light is one of many risk factors, such as age, genetics, diet, lifestyle, and occupation, that may contribute to age-related macular degeneration.
What about sunglasses?
Ray-Ban are iconic as well as being the biggest selling brand in the world for their sunglasses. Available in a wide selection of colours and finishes such as polarised, gradient tint and flash mirror tint, there is the possibility to create a custom pair of Ray-Bans to your specification.
There is still lots more to know about Ray-Ban prescription lenses, do not hesitate to visit us in practice to discuss your best options.