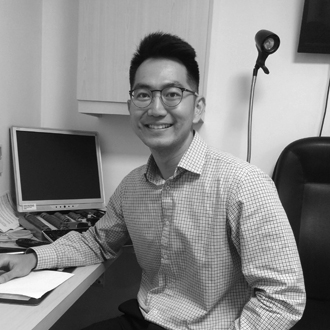 Newly Qualified Optometrists of the Year Nominee – Joseph Ong
12/10/2018
Joseph completed his MOptom course, graduating from The University of Manchester in 2016. He works as a research optometrist with Eurolens Research.
Research has given Joseph the opportunity to work with world leading experts in anterior eye and contact lenses. Alongside his role at the university, Joseph also works in Hathershaw Opticians and has an interest in low vision and paediatric eye care. Joseph is proud to be uniquely positioned to use his research knowledge to deliver the highest quality clinical care. Outside the consulting room, Joseph enjoys playing touch rugby and does outreach work supporting the homeless of Manchester.
What are the key attributes you feel you bring to your practice and patients?
I am creative, driven, and dependable. When assigned a task or project regardless how small, I can be counted on to do my best and see it to completion. As a research optometrist involved in contact lens clinical trials at the University of Manchester, not only am I able to plan, manage resources, and achieve targets, I have learnt to foresee and overcome the challenges that may hamper the progress of the overall project. I see deadlines and demands faced in research as opportunities for growth rather than obstacles. In private practice, I find myself identifying solutions to problems and disseminating my knowledge broadly. On several occasions I have delivered training on visual field testing to optical assistants in the practice to ensure that patients receive adequate instruction and guidance in order to obtain more reliable results which could influence clinical management. I am committed to continually learning and improving myself and keeping up-to-date with the latest information to ensure I deliver the best level of care to my patients. I strongly believe in caring for patients as I would my family. This coupled with qualities such as professionalism, empathy, compassion, and integrity has inspired patient trust.
Please describe a specific example of how you have gone above and beyond the call of duty for a patient or a clinically related project in the past 12 months
About 12 months ago I broke the news of retinitis pigmentosa to a 26 year old. Besides explaining the condition, prognosis, referral process and how it could have impact on his career decisions, I empathised with his emotional state and reaffirmed a positive outlook in the consultation by telling him that many people are able to adapt to and function well despite having a limiting condition. I also highlighted the local services in place to support him. Over the subsequent months I voluntarily spent time outside of clinic hours listening to him and saw first-hand how he journeyed from a state of depression to acceptance as our conversation steered from the implications on his future, career, family to what could be done now. I actively sought the latest research in this area and through my professional networks found out about ongoing research on a novel vision enhancement device that could help visually impaired patients with reduced peripheral vision in particular. I was glad that I could share this with the patient and in the midst of the gloom offer some hope. Today, he is considering to become an ambassador for the Oxsight prism glasses.
What top three tips would you have for newly qualified optometrists?
 The true value of an education is not in how much you get out of it but how much you can give back. As optometrists we are in privileged positions to be able to make a positive difference to our patients' lives. Think about making a difference, not just a living.
Always prioritise patient care. I once saw an elderly gentleman for a low vision appointment. I felt quite helpless as I could not identify any low vision aids that would further improve his quality of life. I took the time to explain his condition, the prognosis, the limitations of the devices, listening to him and validating his experiences. At the end of the consultation, this man leaned forward, offered a handshake and with tears in his eyes said 'thank you very much, you have been very kind.' No devices were issued but I'd like to think the transaction made was an intangible one. This remains today one of the most defining moments in my career.
In this day and age where technological advancements aid different aspects of the eye examination, we need to understand the limitations of it and keep improving ourselves in the interpretation of results.