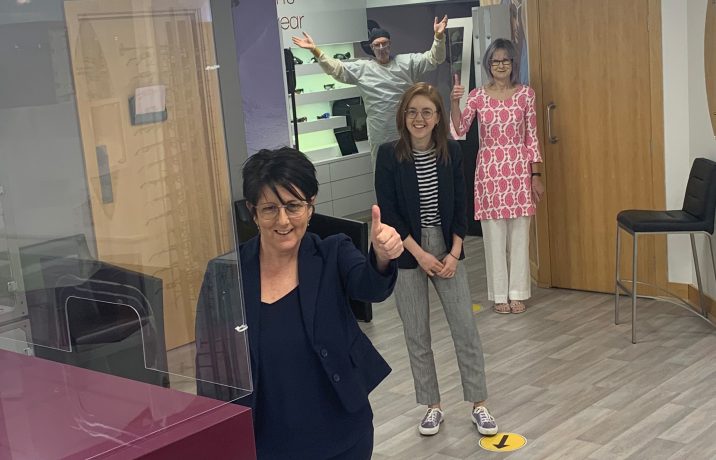 The 'Non-Furloughed 4' signing off!
24/06/2020
The 'Non-Furloughed 4' (N-F 4), in alphabetical order, Andrea, Dawn, Laura and Peter remained at the helm throughout lockdown.
A Medical Optometry practice closing would have been wrong. We were certainly kept busy ensuring contact lens supplies flowed and patients with urgent spectacle repairs, vision concerns and 'red eyes', were not abandoned. The administration needed to ensure colleagues on furlough were paid and we kept abreast of the many government updates as the crisis evolved. Of course I was busy on 24 hour emergency call out with much remote triaging and in-practice investigations when appropriate.
With the easing of lockdown the 'N-F 4' are being re-absorbed into the increasingly busy practice as we very carefully open for routine work and start welcoming back our furloughed colleagues (and of course our patients!!). Last week Gayle returned and has really taken on the mantle of Health and Saftey Officer. This week Jamie, our glazer, Claire (Floor Manager) and Andrew (optometrist) returned from furlough. For the first time in three months 2 optometrists can share the increasing workload.
It is exciting to see everyone again. But I must compliment the other members of the 'N-F 4' for their unstinting work ethic and commitment. It was a delight to work with them. You know you have a good team when you are excess to requirements. The practice administration was monumental but Andrea and Dawn (well Dawn describes her role as primary gopher) coped and I just stuck my oar in.  Laura taught me how to 'Blog' and I feel we authored some interesting facebook logs which, I hope, were informative but also lighthearted. In my very first blog, dated 25th March, I said I had been chuckling with patients about us all singing Vera Lynn songs. Well we have lost this National Treasure now but not before she came out of retirement to bolster us. Way to go Vera.
So thank you Andrea, Dawn and Laura. And welcome back everyone else. I look forward to seeing everyone again.
Peter