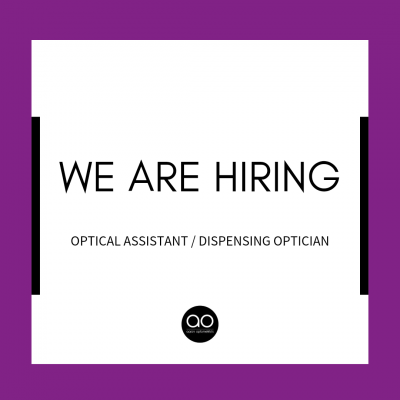 Join Our Team as an Optical Assistant or Dispensing Optician
17/11/2021
Due to a member of staff retiring, Aaron Optometrists now has a job opportunity for an Optical Assistant/Dispensing Optician. We are committed to providing a high level of care and service to all our patients and are looking for someone who can do this with enthusiasm and dedication.
Training would be an option should anyone wish to further their career within the practice.
Key responsibilities include:
Working as part of a team
Reception duties including telephone and arranging appointments
Assisting patients with their choice of products
Ordering and dispensing of eyewear
Aftersales support and adjustments of spectacles
Additional Clinical testing
Skills needed:
Good knowledge of IT
Willing to learn
Approachable and friendly
Knowledge of optics preferable
Dr. Peter Frampton (Owner of Aarons) is proud to have been one of the first 30 Optometrists in the UK to become an Independent Prescribing (Medical) Optometrist. The ability to prescribe and treat directly, without a referral, is a fundamental change to clinical care in the community. To enable a complete patient journey, Peter only employs Medical (IP) Optometrists. Aarons remain the only practice in Northumberland to offer continuous access to Medical Optometrists, a valuable service.
Our commitment to enhancing community care is reflected not simply by this policy. Our track record for all our colleagues reflects ongoing training and clinical advancement.
If you are interested in this job opportunity, please email your CV to either Karen Henderson or Claire Mather at [email protected].