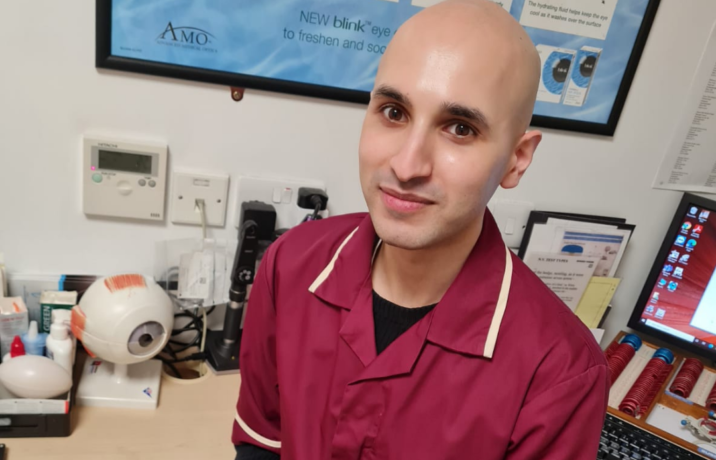 Meet Zaid Tariq: the newest member of the Aaron Optometrists Team
08/02/2022
As one of the first Independent Prescribing Optometrists in the UK, owner and lead optometrist Peter Frampton is committed to employing young talent and providing ongoing training and clinical advancement for all optometrists within the practice, ensuring that each and every member of staff is committed to enhancing eye care and treatment within the community.
Our newest member of the team, Zaid, shares that embedded ethos of community care. Zaid joined our Ashington practice in August 2020 after completing a Master of Science (MSci) in Optometry at the University of Manchester the previous year.
Zaid has undertaken extensive training as a pre-registration Optometrist, both within our own practice and at a separate independent practice in Essex. Under supervision, he has gained invaluable experience dispensing glasses, building relationships with customers and conducting in-depth sight tests.
Now a fully qualified Optometrist and a member of the Association of Optometrists, Zaid has a particular interest in contact lens consultations, checks and fittings.
With Peter Frampton's dedication to offering a complete patient journey and ongoing support – the medical (IP) optometrists within Aaron's can treat any and all of the contact lens issues that you might face and can prescribe and dispense medication direct from our practice, saving you the time and stress involved in a trip to the eye infirmary.
As a newly qualified optometrist, Zaid is eager to pursue further training and additional courses in contact lenses and prescribing. As a small, community-focused practice, we are committed to nurturing and supporting Zaid in his professional and medical development, so that we can achieve the highest level of satisfaction and expertise amongst our staff.
For an appointment with Zaid, give the practice a call on 01670 813185. He'd be delighted to assist you.