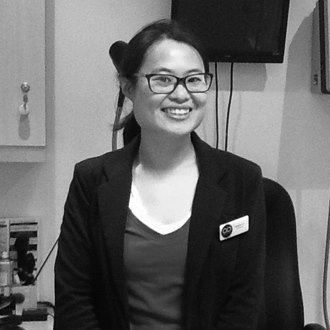 From Pre-registration Student to Medical (IP) Optometrist: Meet Debbie
02/03/2022
Since joining the team in 2007, Debbie Liu-Tam has been consistently both clinically and personally ambitious, her extensive qualifications and commitment to patient care making her an integral and valuable member of the Aaron's team.
Before entering the optometry profession, Debbie worked at her parents' Chinese takeaway, both as a chef and as a key point of contact on the front desk, taking orders and answering customer queries. This gave Debbie valuable customer service skills and experience of working in a fast-paced environment.
In 2006, Debbie obtained a degree in optometry from the University of Manchester. From being a pre-registration student to becoming a permanent member of the Aaron's team in 2008, Debbie gained valuable experience of a range of pathologies and, with the support of Aaron's, decided to continue her learning and increase her clinical qualifications. She gained a City & Guilds qualification in Diabetic Retinopathy in 2013, this course teaching her how to accurately grade diabetic screening pictures, ensuring early detection and timely treatment.
Debbie became a Medical Optometrist in 2015 and achieved a certificate in Medical Retina in 2017, expanding her expertise on how to manage common ocular conditions as well as being able to prescribe appropriate medication and directly treating the patient's condition from the comfort of the practice.
Having these qualifications, matched with her empathetic and customer-focused approach, is a huge benefit to people seeking expert ocular care in Northumberland, Debbie's skillset as a Medical Optometrist is focused on improving patient eye care on a local level, which is fundamental to the community-focused ethos of Aaron Optometrists.
On a day-to-day basis, Debbie welcomes patients into the consultation room, conducting full eye examinations, contact lens check-ups and trials. Having been a member of the Aaron's team for over a decade, Debbie has formed strong relationships with her colleagues and has successfully treated countless patients of all ages and backgrounds.
To have an eye examination with Debbie, please give the practice a call on 01670 813185 or use our quick and simple online booking system today.