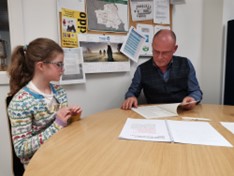 Applauding Thea Strachan. Student. Age 9.
30/01/2023
Enter Thea Strachan.
Occupation: Student.
Age: 9.
Voting status: ineligible.
Commitment to something critically important: enormous.
Thea's story
During Liz Truss's very short premiership, Thea received an email from RSBP calling people to contact their MPs to protest her plans, which included rushing through a bill to delete 570 environmental laws. The government's plans were described by the RSPB as a 'war on nature'.
This call to action was not dismissed by Thea.
Thea wrote to Liz Truss. She also contacted her local MP, Ian Levy. The fight did not stop post the exit of Truss. To Mr Levy's great credit, rather than dismissing a nine-year old's call, he asked if Thea would meet him to discuss her ideas. She thought up some questions and researched the nature laws and produced an impressive portfolio to present.
Older people should be overwhelmed by the young.
There is an opinion, held by some adults, young people should not be allowed opinions on complex issues such as climate change. The argument presupposes young people are too immersed in shallow pursuits of social media and image to be concerned.
I disagree. My experience, talking to young human beings such as Thea, is they are far more likely to demonstrate real urgency and commitment to environmental rehabilitation than an equivalent cohort of the comfortably secure middle-aged. The Brownie/Guide mission statement 'Girls making change': 'Making change today; For our world tomorrow' could be a powerful political manifesto!
Where do I fit in?
I have known Thea and her family for most of her life and have had interesting discussions with her. Because Thea is fully aware of my environmental credentials, as part of her portfolio, she asked me three questions. As this blog is about Thea, not me, I have not included my rather complicated/political answers, however they are available.
Dear Thea,
Thank you for your thought provoking questions. I hope my answers help you. Your inability to vote does not diminish the value of your opinions. Your generation is the future, and you deserve a good one!
Dr Peter Frampton BSc MSc DOptom FCOptom BAppSc(Optom)(AUS) DipTip(AS SP IP)