Andrew Watson qualifies with First Class Degree in Optometry.
---
November
Peter Frampton awarded a 'Fellowship of the College of Optometry' in recognition of his commitment to clinical excellence.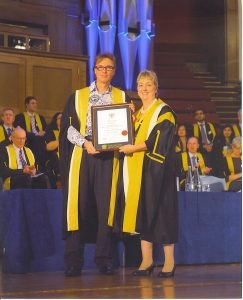 A Fellowship is the highest honour awarded by the college and the award citation reads 'In recognition of his commitment to clinical excellence'.
To be acknowledged by your peers is a great honour.  We certainly do strive to give a clinically excellent service under extremely difficult financial constraints.
---
Published: 'Community Based Independent Prescribing' CET Article.
Optometry Today 2011
---
October
Commenced Ophthalmic Doctorate: Aston University
Working title of research:
'The Investigation of Corneal Shape and Corneal Hysteresis, considered Variables Inter-dependent with Corneal Thickness, as Potential Confounders to the Accurate Estimation of Intra-Ocular Pressure with Conventional Tonometers.  A fundamental reappraisal of tonometry for the 21st century identfying the urgent need for a new reference standard'.