Established in 1905, Peter Frampton (owner and Lead Optometrist of Aarons) is proud to have built a strong reputation for providing the highest standard of optical care and services.  Aarons has challenged the conventional optometry business model for over 25 years. Our Credo: 'to extend the role of community based ocular health care' and in doing so ' improve or enhance a patients quality of life'.   The need to change the way optometry works has been evident for many years and the driving force behind every change made with Aaron's.   The introduction of our in-house schemes 'CLARITY' and 'INSIGHT' helps us to build long lasting relationships, retain patient trust and understanding, and enables us to develop optometry for the future.
The traditional role of an optician as a simple technician prescribing and fitting optical correction does not reflect the clinical needs of a struggling health service. The need to evolve this profession is paramount to the success and financial security of the current healthcare system.
Independent Prescribing; Medical Optometrists became a legal reality in 2009. Peter Frampton was one of the first 30 Optometrists in the UK to achieve Independent Prescribing qualifications.  Most Medical Optometrists work in the hospital setting. There are still very few practicing in the community where they are, argubly, needed most.  It remains a very exclusive group but every Optometrist working in Aarons is either a medical Optometrist or completing the qualification.
A timeline of Aarons
2021
2020
2019
2018
2017
2015
2014
2013
2012
2011
2010
2009
2007
2006
2005
2004
2003
2002
1998
1997
1996
1994
1993
1980
1948
1940
1905
Andrea Carroll and Jamie Robinson are working towards completing their Level 4 Diploma for Optical Technicians.
---
Aarons partnered with The Hearing Care Partnership to provide full  hearing assessments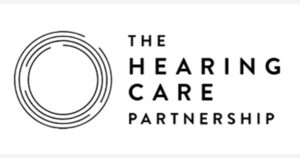 To coincide with Aaron's green ethos, when it came to deciding on a new car for the business, it obviously had to be electric.

Peter became a visiting lecturer for the University of Hertfordshire.

---
Andrew passed his 'Independent Prescribing' course from Glasgow Caledonian University.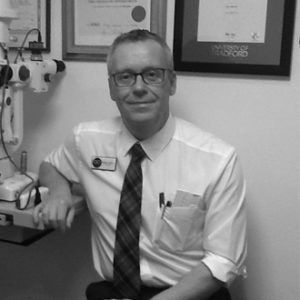 ---
The contact lens and spectacle recycling schemes begin.

To reflect the advanced qualifications and commitment to care, we rebranded to 'Medical Optometrists'.

---
The first floor of the practice also went through a refit to create a more welcoming space.

Peter Frampton became a Doctor in Optometry.

---
Debbie Liu Tam began her training as a Medical Retinal Specialist.
---
Andrew Watson began his training for 'Independent Prescribing' qualification and will become our next Medical IP Optometrist in 2018.
Debbie Liu Tam became an 'Independent Prescribing' Optometrist.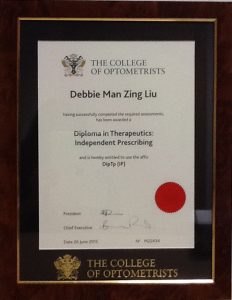 Emma & Ann joined our team in November 2014 as Optical Assistants after previously working at another Optical group
Acceptance of the offer from Manchester University to be an affiliate Clinical Practice to help train their Master of Optometry students.  This is a great honour and we work in conjunction with Royal Manchester Hospital.
---
Peter Frampton has also been made an Honorary Lecturer at Manchester University.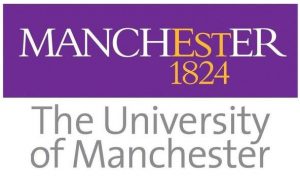 Peter Frampton co-authored the 'Red Eye' course for Johnson and Johnson Vision Care Institute and regularly travels to their headquarters to co-present this 2-day educational programme.
Published:
1.  'Tonometry: Does historical precedent and familiarity constrain development'.
Optometry Today 2012
2.  Two VRICS (Visual Recognitions and Indentification of Clinical Signs) articles.

Andrew Watson qualifies with First Class Degree in Optometry.
---
Debbie Key started as a member of our clinical assistant team.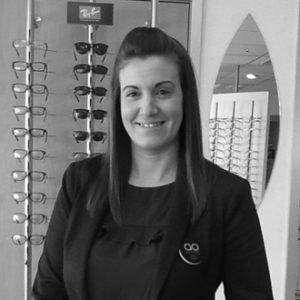 ---
November
Peter Frampton awarded a 'Fellowship of the College of Optometry' in recognition of his commitment to clinical excellence.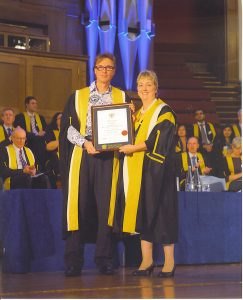 A Fellowship is the highest honour awarded by the college and the award citation reads
'In recognition of his commitment to clinical excellence'.
To be acknowledged by your peers is a great honour.  We certainly do strive to give a clinically excellent service under extremely difficult financial constraints.
---
Published:
'Community Based Independent Prescribing' CET Article.
Optometry Today 2011
---
October
Commenced Ophthalmic Doctorate: Aston University
Working title of research:
'The Investigation of Corneal Shape and Corneal Hysteresis, considered Variables Inter-dependent with Corneal Thickness, as Potential Confounders to the Accurate Estimation of Intra-Ocular Pressure with Conventional Tonometers.  A fundamental reappraisal of tonometry for the 21st century identfying the urgent need for a new reference standard'.
Claire joined the team with previous experience of working in optics.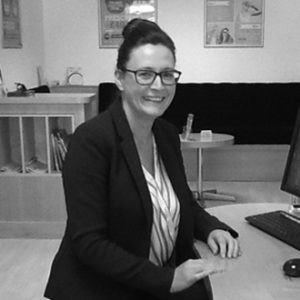 ---
Jamie became a member of the in-house lab as an apprentice.
---
Published: 'Arguing the Case for Independent Prescribing'.
Optometry Today 2010
November
Peter Frampton was one of the first 30 optometrists to be awarded Independent Prescriber status; meaning some optometrists can now treat eye disease and prescribe ocular drugs independently of a GP or hospital.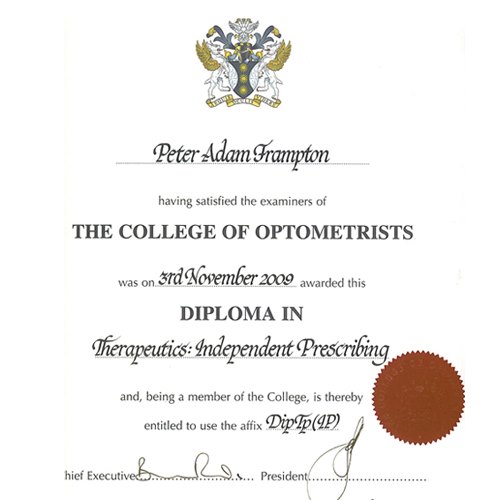 October
Published: 'Are Shared Care Schemes Financially Viable?'
Optician 2009
June
Peter receives his Diplomas in Additional Supply and Supplementary Prescribing.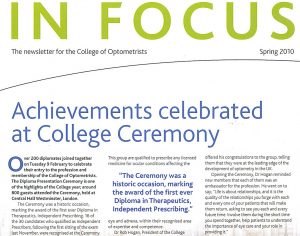 Debbie Liu Tam joins the team as a Pre-Registration Optometrist. After qualifying, she stayed with us to further her educational qualifications and clinical experience.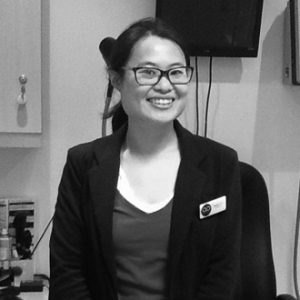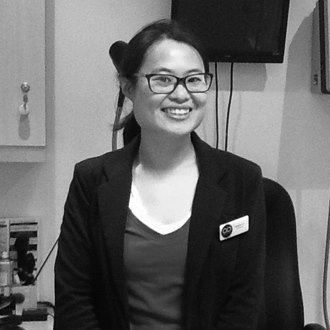 ---
Karen Henderson also joins us and immediately begins her Optical Assistant course which she passes in 2008.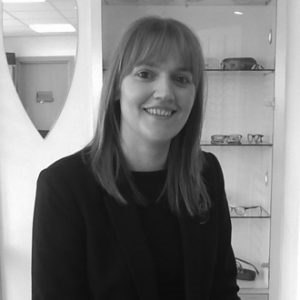 ---
Published : 'Ministry of Transport'.
Optician, February 2007.
See under 2003 Innovation in Practice Award.
Northumberland Care Trust Award.  Joint winner of the 'Innovation in Practice' award for recognition for those who have demonstrated excellence in the manner in which they work and the services they provide.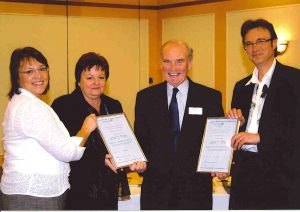 ---
With previous experience of working in the optical industry, Kelly became a member of the team in September.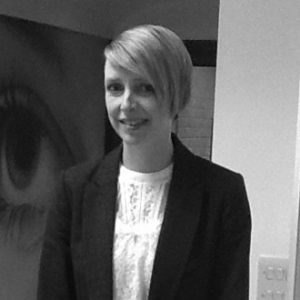 Peter and Aaron Optometrists wins an Optician Awards for 'Outstanding Optometrist of the Year' – the very first individual and practice to be awarded this honour.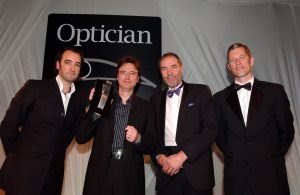 ---
Optician Awards 'Technology Practice of the Year' – reflecting our commitment to ensuring the highest quality of clinical care.
---
Peter graduated Bradford University – Masters Degree with Distinction in Ocular Therapeutics.
Dissertation: 'Sleep Induced Spikes in Intraocular Pressure and Possible implications with the use of Prostaglandin Analogue Drugs for the Treatment of Chronic Open Angle Glaucoma'
---
Andrea joins the team as Strategic Manager – initially only for one year.
---
Kerry also joined us as an Optical Assistant.
We expanded the practice to cover two floors in 2004, meaning more technology, which included;
1 .  Retinal Nerve laser mapper for earliest detection of Glaucoma, for 10 years the only one in Northumberland.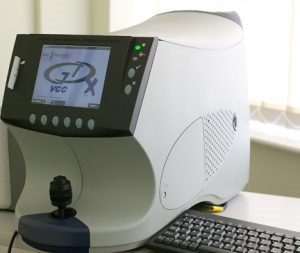 2 . Computerised HESS Plot for assessing Binocular Vision anomalies.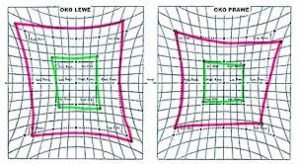 3 . An upgrade of our original Corneal Topographer for earliest detection of Keratoconus, which remains the only one in Northumberland.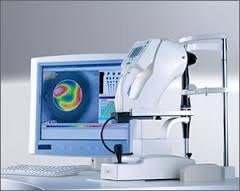 ---
Charmaine joined us in March as member of our Optical Assistant team.
Andrew passes his Contact Lens qualification first time.
---
Northumberland Care Trust Award – 'Innovation in Practice – Pushing the Boundaries' – for our Patient Transport service for less mobile patients.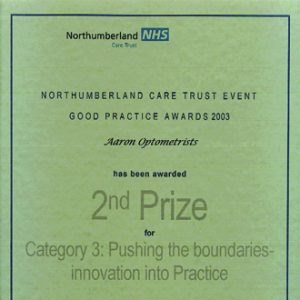 Introduced our first 'Patient Transport' vehicle to allow less mobile patients to access a fully equipped optometry practice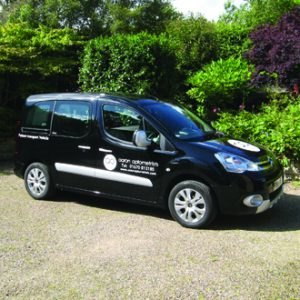 .
Gayle began working with Aarons as a Glazing Technician. She has since completed her Dispensing Optician degree.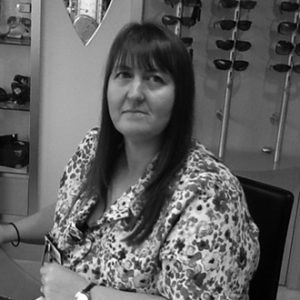 Andrew Watson joins Aarons as a trainee Dispensing Optician.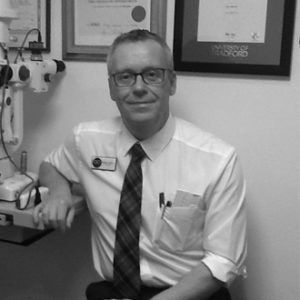 Aaron Optometrists moved from Unit 5 to Unit 1 Bellway House.
---
Purchased the Corneal Topographer which aids the detection of Keratoconus and fitting of complex contact lenses. It still remains the only one in Northumberland.
Brought automated computer controlled perimetry to the practice.
Our first camera, the Digital Fundus Camera – with Polaroid Film! 20 years before it became mainstream.
Peter Frampton takes ownership of S Aaron (Opticians).

Sidney Aaron sold to a small Optometry Chain. The hayday of controlled optometry was over and Aarons looked dated.
Advertisements by Aarons in the Ashington and District Advertiser.

Sometime in the 1940's, Saul's son Sidney takes over S. Aaron Opticians.
Circa 1905, Saul Aaron opens 'S. Aaron Ophthalmic Opticians' on Station Road, Ashington.